Infants - 2 year olds
Bring your child(ren) to their appropriate room (Nursery or Toddler), located on the first floor in The Children's Center wing. These classrooms are available during the early and late worship services, as well as the Education Hour (8:30am-12:00pm). Each classroom has a GCPC staff person and a volunteer.
3 year olds - Kindergarten
3 year olds through Kindergarten aged children will meet in the Preschool childcare room located on the first floor in The Children's Center wing (drop off can be as early as 8:30am). They will travel as a class to the Sunday School room on that hall for their lesson. Godly Play explores the core stories of our faith in a Montessori style involving storytelling, individual work to react to the story, prayer and a classroom feast. After the lesson, children return as a class to the Preschool childcare room and can either be picked up or stay for the duration of the 10:30am worship service.
First - Fifth Grade
Bring your child(ren) to the Temple Room upstairs in Education Wing at 9:15am, when Education Hour begins. Each week they will have a Godly Play session focusing on the sacred stories in our faith that includes a work time for them to interpret the story as they see fit and a closing feast. Special "Service Sundays" will also be scattered throughout the year for us to put our faith into action. Please pick up children by 10:10am.
What is Godly Play?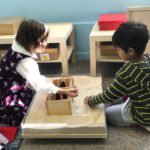 This is the curriculum we are using with our preschool and elementary aged children. It is based upon the recognition that children have an innate sense of the presence of God. All they lack is the appropriate language to help them identify and express it so it can be explored and strengthened. The Godly Play approach teaches classical Christian language in a way that enhances the child's authentic experience of God so it can contribute to the creative life of the child and the world. To learn more click here.